Bottega University Logo Meaning PNG & Vector AI
Bottega University was established in 1994 as Andrew Jackson University by Robert McKim Norris, Jr., and D. Michael Barrett in Birmingham, Alabama. The name was later changed to New Charter University after being acquired by UniversityNow, Inc. in 2010.
Bottega University is now based in Salt Lake City, Utah, and was acquired by Bottega, LLC in 2019. It offers online education programs that are flexible, supportive, and affordable to students from around the world. Bottega's curriculum is backed by The American Council on Education and has been approved by the Commission of the Distance Education Accrediting Commission.
The university is built on the premise that independent learning can provide better educational experiences than a formal classroom and that determined individuals can succeed, despite adversity. Bottega University has a mission to improve lives through education and leverages advances in innovative technologies and educational models to provide high-quality education programs.
The school was founded by a group of educators, entrepreneurs, and business executives who are passionate about learning and have successfully established universities, colleges, and schools worldwide. Bottega University is proud to carry out its mission to provide education to individuals around the world who are looking to improve their lives through learning.
Bottega University Logo Meaning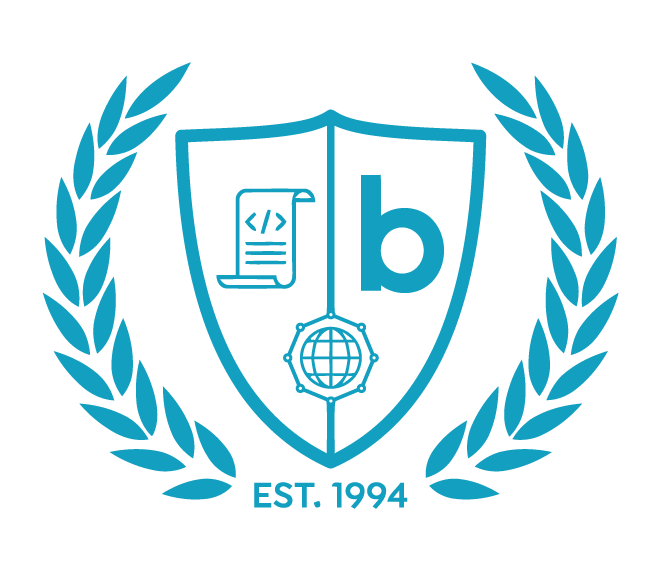 The Bottega University logo is a work of art that symbolizes the core values and mission of the institution. The shield is divided into two parts, each representing a key aspect of the university's curriculum. The left side features a piece of paper with an HTML tag icon, symbolizing the university's commitment to providing students with the latest and most relevant programming knowledge. On the right side, the letter "B" stands tall, representing the first letter of Bottega and serving as a reminder of the university's name.
At the center of the shield, the globe icon symbolizes the university's reach, extending its arms to embrace learners from all corners of the world. The octagon formed by connected dots represents the many paths that education can take, offering students a variety of opportunities to explore and grow.
The wreath that surrounds the shield represents the university's rich history, and the text "EST 1994" at the bottom center of the wreath reminds us that Bottega University has been providing quality education for nearly three decades.

The Bottega University logo also incorporates a modern and stylish geometric font, which adds to its contemporary look. The use of lowercase letters adds a touch of humility and approachability, reinforcing the university's commitment to providing an inclusive and student-centered educational experience.
The clean and simple design of the logo, combined with its contemporary font, makes it easily recognizable and memorable, making it a powerful symbol for Bottega University and its students.
In short, the Bottega University logo is a beautiful representation of the university's passion for education and its commitment to providing students with the tools and knowledge they need to succeed in today's rapidly changing world. It is a symbol that is as relevant and meaningful today as it was when the university was founded in 1994.
Vector AI
Here's a vector file that you can use for graphic design or promotional purposes. By using a vector file you'll have a maximum-quality logo that's not tied to a certain resolution. That means you can scale up this logo as big as you want. Don't forget to always check the official brand guideline before using it to avoid any misuse and to keep their brand integrity.
Format: AI (Adobe Illustrator)
Artboards: 3
Size: 173kb