Creative Logo Design Ideas for Real Estate Business
If you're in the real estate business, you know that first impressions are everything. A well-designed logo can help you make a great first impression and set you apart from the competition. A logo that's simple, unique, and memorable can help potential customers remember you and what you stand for.
Whether you're a real estate agent, broker, or property manager, having a logo that represents your brand is essential for building a strong and recognizable presence in the market. In this article, we'll take a look at some key elements to consider when designing a real estate logo, and provide some creative ideas to inspire your own unique branding.
Key Elements to Consider in Real Estate Logo Design
When designing a logo for your real estate business, there are some key elements that you should consider to ensure that your logo effectively communicates your brand's message and values.
Colors
First and foremost, you'll want to choose a color scheme that represents your brand and sets the right tone for your business. Warm colors like red, orange, and yellow can convey energy and excitement, while cool colors like blue and green can evoke feelings of trust and professionalism.
If you're looking for a further color guide, check out this article A Guide to Choosing the Right Color Scheme for Your Modern Logo to Stand Out in the Digital Age
Font & Symbol
Additionally, you'll need to choose a font that's easy to read and reflects your brand's personality, as well as an icon or symbol that's relevant to your business and unique enough to stand out from the crowd. Meanwhile, you can check this article if you want to be a modern logo at the end 11 Tips to Get a Simple and Elegant but Modern Logo for your Business
Scalable
Finally, it's important to ensure that your logo is scalable and versatile so that it can be used across a variety of mediums, including print and digital. So avoid small elements or cluttered elements and make sure important element keep visible at a tiny scale. This will help your logo to be more effective in representing your brand across all touchpoints.
Tips for Designing a Successful Real Estate Logo
When it comes to designing a successful real estate logo, there are some tips that can help you create a design that effectively communicates your brand and resonates with your target audience.
Keep it simple
A clean and uncluttered design is not only more visually appealing, but it's also easier for customers to remember and recognize. A simple logo will also be more versatile and work across a variety of mediums, making it more cost-effective to use and more memorable for your customers.
Avoid Generic Symbol (House, Roof, Key, Windows Etc)
Using generic or overused real estates symbols like houses or keys can make it difficult for customers to differentiate your brand from others in the market. A unique logo that stands out from the competition will help your brand to be more memorable and recognizable, which can lead to increased brand loyalty and a stronger reputation in the industry.
Incorporate your brand's personality and values into the design
A successful logo should not only be visually appealing but also accurately represent your brand's personality and values. By incorporating these elements into your logo design, you can create a memorable and meaningful logo that resonates with your target audience. For example, you can include your initial or name as the main focus of the logo or you can use some animal figure that matches your brand personality.
Here's an Image that Contains Some Examples of Existing Unique Real Estate Logos for your inspiration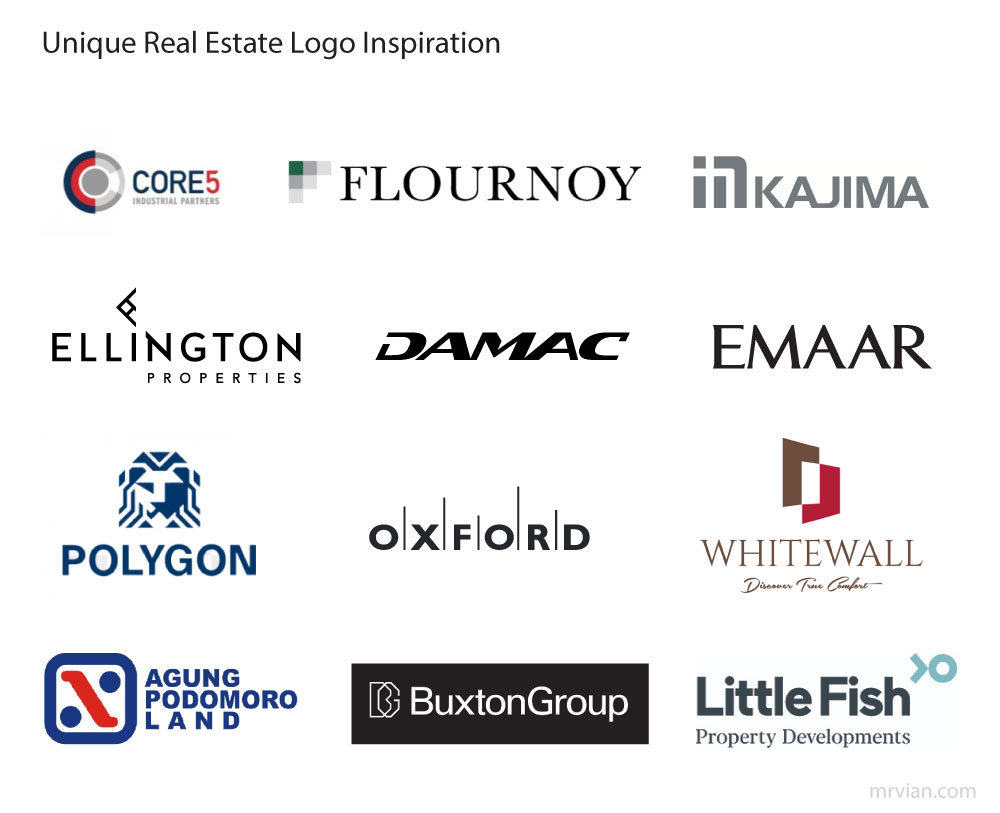 To conclude
Designing a successful real estate logo requires careful consideration of the key elements that make up a memorable and effective design. By keeping it simple, ensuring that your logo is unique, incorporating your brand's personality and values, and considering how your logo will look across different mediums, you can create a logo that not only stands out from the competition but also accurately represents your brand to your target audience.
Remember, your logo is a visual representation of your brand and serves as a symbol of trust and reliability for your customers. Investing time and resources into creating a strong and effective logo is essential for building a successful real estate business that resonates with your target audience and stands the test of time.
Looking for Simple and Elegant Logo Design Service?
Mrvian is a professional designer who has this style type. Even though the outcome is a simple design but it comes from a thoughtful process in order to produce the most suitable brand for the target audience and brand value. Check out my portfolio to get a feel of my style and don't hesitate to contact me.