How to make Logo Design For Free Using AI Bluewillow
Creating a unique and memorable logo for your business or brand is a crucial aspect of establishing a strong identity. However, the cost of hiring a professional logo designer can be prohibitively expensive for many businesses, especially startups and small companies.
Fortunately, there's a solution to this problem – using AI text-to-image generators to create a DIY logo design.
In this article, we'll explore the benefits of using an AI text-to-image generator like AI Bluewillow to create a logo design. With these tools, you can create a logo in minutes, without spending a fortune.
You'll be able to generate unique logo designs that perfectly match your brand's style and personality, all for a fraction of the cost of a professional logo designer.
With AI text-to-image generators, you can bypass the costs and limitations associated with traditional logo design services.
The process is simple, easy, and fast, and you can create a logo in minutes. You won't have to worry about the high costs and long wait times that are common with traditional logo design services.
With AI text-to-image generators, you can create a logo that perfectly represents your brand, without breaking the bank.
What is BlueWillow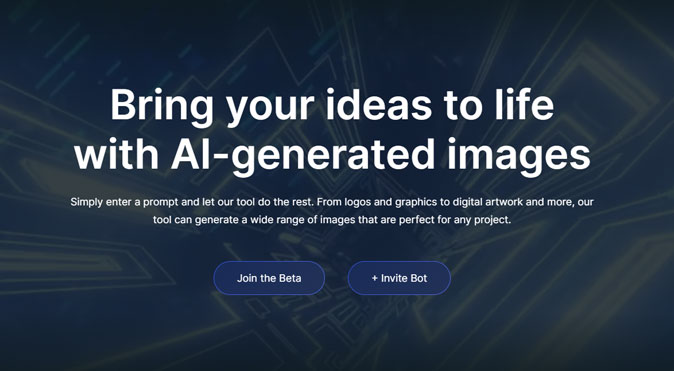 BlueWillow is a brand-new AI text-to-image generator that provides users with an innovative way to create logos, graphics, and digital art. Based on their FAQ, the company was founded in December 2022 by a team of AI engineers who are passionate about building new technologies to help people access the many high-quality AI models that exist today.
BlueWillow aims to help people realize their creativity through the power of artificial intelligence and to make the process of creating high-quality art accessible to everyone.
BlueWillow offers several key advantages over other logo design services:
Free – It's completely free to use, making it an ideal solution for businesses and individuals who are working with a tight budget.
Unlimited Generation – BlueWillow, you can generate unlimited designs, allowing you to experiment and find the perfect logo for your brand.
High Resolution – The images generated by BlueWillow are high-resolution, ensuring that your logo will look sharp and clear on any platform.
Support team – BlueWillow has a support team that is ready to help, so you can rest assured that any questions or issues you may have will be addressed promptly and efficiently in discord.
The Different Between Bluewillow and Midjourney
BlueWillow and Midjourney are both discord-based image generators, but they have distinct differences.
BlueWillow is focused on allowing users to create logos, graphics, and art. As the company mentions in their documentation, Bluewillow is like a "Google Flights" for AI models.
It aggregates multiple AI models, including models like Stable Diffusion, to help users find the right model depending on their goal.
On the other hand, Midjourney's model is proprietary and not featured by Bluewillow. This means that while Midjourney may offer certain capabilities and features, they are unique to their platform and may not be available through Bluewillow.
How To Make Logo in BlueWillow
BlueWillow is a powerful AI image generator that makes it easy to create logos, graphics, and digital art. If you're looking to create a logo design, follow these steps:
1) Join the Bluewillow discord server by clicking the "Join the Beta" button or by visiting https://discord.gg/bluewillow.
2) Go to one of Rookie's channels, such as #rookie-1, or message the BlueWillow bot directly.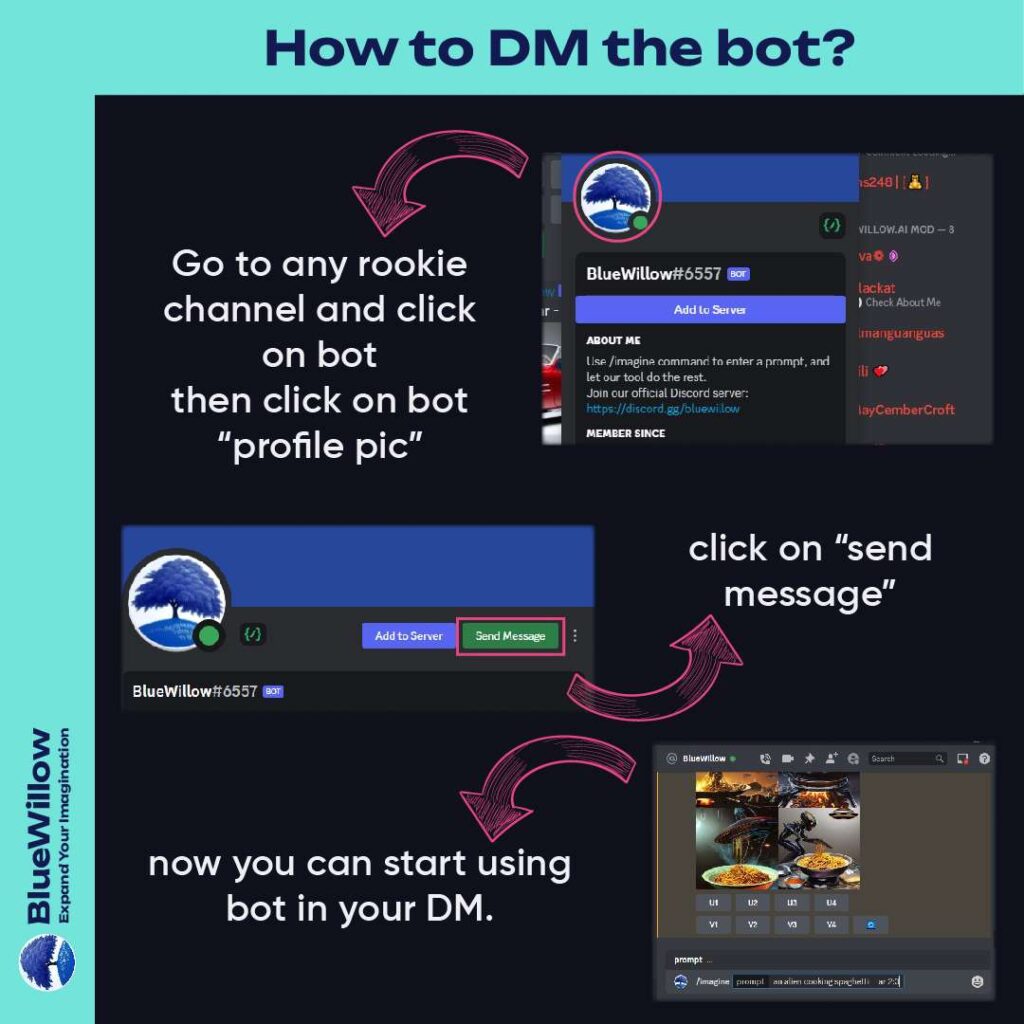 3) Type "/" in the message field and click the first list with "/imagine prompts" text in it.
4) To start, search for an image on the internet, such as through Google Image Search. Copy the URL of the image and paste it into the prompt field. This will give the AI a general idea of what you're looking for.
5) If you have your own reference image, you can upload it first and copy the link. Take a look at the animation below for the more clear explanation.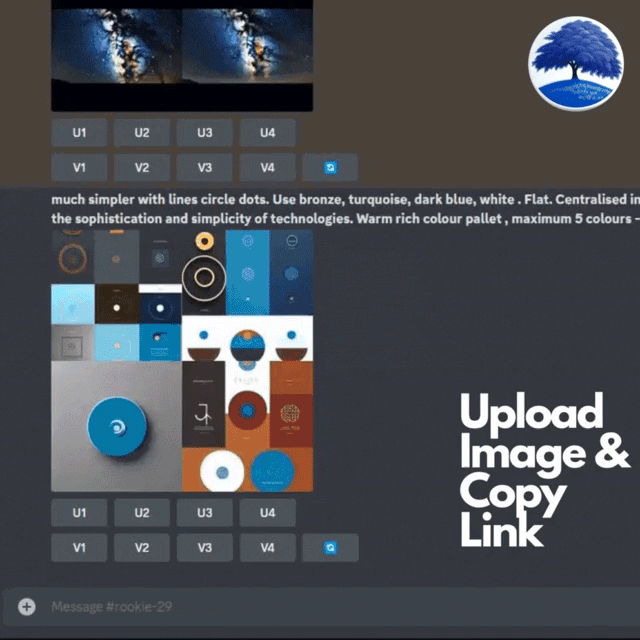 6) After that, insert your own prompt to give the AI direction for image generation. For example, you could use a base template like "logo design, line art, one color, simple, house, geometric, vector, bold, 8k".
7) The overall format should look like this: "(image URL) logo design, line art, one color, simple, house, geometric, vector, bold, 8k".

8) Hit enter and wait for the result. In a few seconds, you'll see four image options generated for you.
Feature
Upscale: Bluewillow's AI models are capable of upscaling images to high resolutions, making it possible to create images that are clear and sharp even when printed at large sizes.
Variation: Bluewillow's AI models can create multiple variations of the same design, making it easy to explore different options and choose the one that best fits your needs.
Regenerate: Bluewillow allows users to regenerate images, giving them the ability to make changes and improvements to existing designs.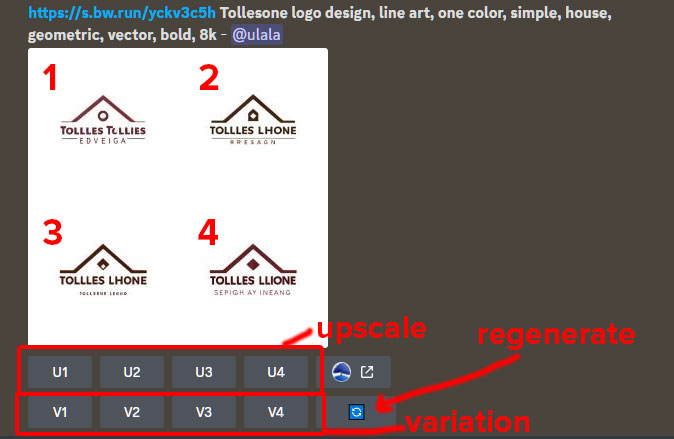 Disadvantage
While Bluewillow offers a number of benefits and features, there are also a few disadvantages to consider. These include:
Difficulty in producing text images: Creating text-based images using Bluewillow can be challenging, as the AI models may struggle to produce images that are clear and legible. This can be especially true for complex or stylized fonts styles.
Edges of graphics may appear wrinkled or wavy: One of the limitations of using AI models to create graphics is that the edges of the images can sometimes appear wrinkled, bumpy, or wavy, especially for straight and geometric lines. This can become even more pronounced when the image is scaled up.
Don't get the result you want? try Bing ChatBot which is powered by Dall-E, all explained in this post: How to Make Cool Wordmark Logo in Bing Chatbot.
Conclusion
Though creating a logo design for free using Bluewillow can be a great way to save money and explore your creativity, it requires patience, experimentation, and the development of skills in choosing the right prompts for the AI models.
There are some limitations to be aware of, such as difficulties in producing clear text images and edges that may appear wrinkled or wavy, these can be overcome with time and practice though.
To get the best results from Bluewillow, it's important to be patient and repeat the process until you find the image you expect. Experimentation is key, and by trying different prompts and tweaking the settings, you can develop your skills and create high-quality logos and graphics.
If you have any advanced tips or tricks for using Bluewillow, please leave a comment below. The more we share and learn from each other, the better our results will be!
Looking for Simple and Elegant Logo Design Service?
Mrvian is a professional designer who has this style type. Even though the outcome is a simple design but it comes from a thoughtful process in order to produce the most suitable brand for the target audience and brand value. Check out my portfolio to get a feel of my style and don't hesitate to contact me.