University of Sussex Logo Meaning and History
What is the University of Sussex?
The University of Sussex is a public research university in Falmer, East Sussex, United Kingdom. Its currently sitting at number 163 on the list of the best global universities and number 20 among global universities in the UK, according to usnews.com.
Nevertheless, this university has won 5 Nobel prizes in science, 15 fellows of the Royal Society, 10 fellows of the British Academy, and 24 fellows in the Academy of Social Science.
It has some famous alumni such as Carlos Alvarado Quesada – President of Costa Rica, Helen Boaden – BBC Director, and Thabo Mbeki – President of South Africa. Some Nobel Prize winners include Sir Harold Kroto, Sir Anthony Leggett, Archer Martin, Sir Paul Nurse, and Sir John Cornforth. (Source)
University of Sussex Logo History
Coat Arm Logo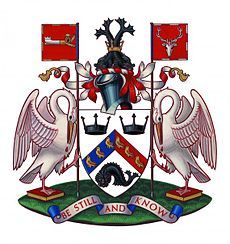 The University of Sussex has a coat arm that used since 15 March 1962. This logo contains Sussex County's traditional image which is six heraldic swallows, 3 on left and 3 on the right side chevron, and on top of a dolphin naiant sable representing martlets from the coat arm of West and East Sussex.
Two Saxon crowns as south Saxons kingdom, and 2 dolphins bounded by the crown on a wreath argent and gules. There are also 2 pelicans facing each other with a head in a bowed down position, standing on a book of knowledge holding a red banner. In addition to that, there are slogans "Be Still and Know" on the green ground.
This coat arm logo is only used for graduation teams and on official university degrees.
US Logo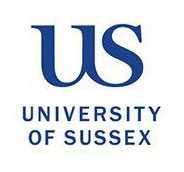 In order to modernize their logo, they stopped using the coat arm and replace it with the US logo in 2004. This logo consists of the letter "U" and "S" that are connected together from its baseline. It utilizes UOS Baskerville Titling font lowercase as a symbol based on the university's initial. Below its symbol, there is "University of Sussex" text in ITC Franklin Gothic typeface. All are colored in cobalt blue.
US Logo Meaning
Shape
Overall the "US" logo looks very modern and sophiscated. It using connected letter representation wich is very common practice in logo design world. It can potray unity, creative and unique but still maintain the integrity. The shape of font also make it look more classy and elegant.
Color
US logo are only using 1 color in their logo which is Cobalt blue at #1d4289. This color gives the logo elegant feel, trust and serious.
Conclusion
As one of the best University in England, University of Sussex brand are easily recognizable among all university in England. This modern and creative approach can trigger younger student to join this university. Overall their logo is very perfecly communicate their brand value: Kindness, Integrity, Inclusion, Collaboration and Courage.
If you want to use University of Sussex logo in any purphose make sure you follow official brand guidelines here.