The Hidden Message of Cardano Logo & PNG
Cardano is a decentralized, open-source blockchain platform that is designed to be a secure and scalable infrastructure for the development of smart contracts and decentralized applications (dApps). It is also built on a multi-layer architecture, which separates the accounting of transactions from the execution of smart contracts.
It is unique from other cryptocurrencies in that it is built on a proof-of-stake (PoS) consensus algorithm, which allows for more energy-efficient and decentralized transactions. The PoS algorithm is a significant improvement over the traditional proof-of-work (PoW) algorithm used by most other blockchain platforms, such as Bitcoin.
PoW requires miners to use powerful computers to solve complex mathematical problems, which consumes a lot of energy. In contrast, PoS allows users to validate transactions by holding and staking their tokens, which is less energy-intensive.
Furthermore, Cardano has a robust governance model, which allows stakeholders to vote on protocol upgrades and other important decisions. All these features make Cardano stand out from other cryptocurrencies and make it more secure, scalable, and decentralized.
Cardano Logo Review
The Cardano logo is a striking and unique design that consists of a 6-dot layer with a circular formation. The larger 6 dots are located in the center, or inner layer, while the smaller 6 dots are located in the outer layer.
The logo is predominantly blue in color, which is fitting for a platform that is focused on security and scalability. This logo is usually presented inside a blue circle as an icon or on a white background with text next to the logo.
At glance, it looks like a star or rays but builds with circles. The logo also uses a modern sans-serif font that is suitable for its target market.
Cardano Logo Meaning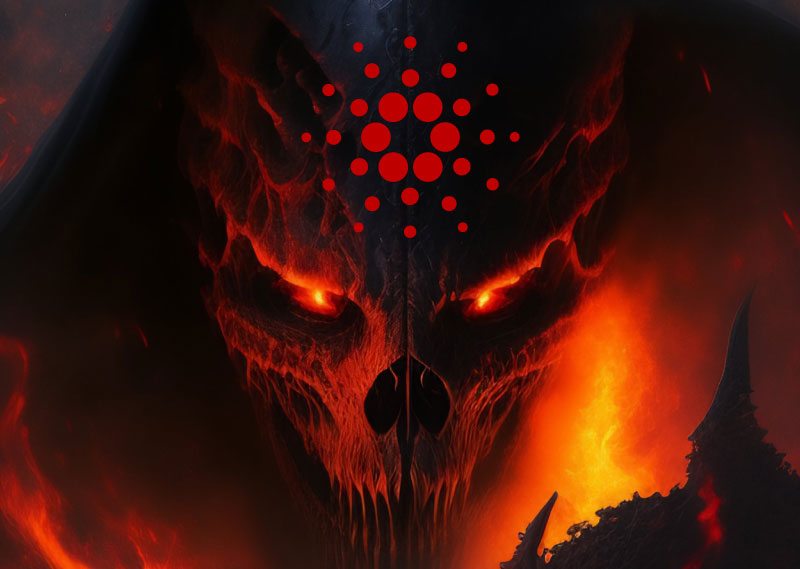 The meaning of the Cardano logo has been the subject of much debate and speculation among the community. Some people on Reddit have suggested that the logo is a satanic symbol or represents the number 666 like how Cern Logo does.
Others have argued that it is a carbon-based symbol, representing the 6 protons, 6 electrons, and 6 neutrons that make up a carbon atom. Carbon is the building block of living organisms so it might contain a message to save the environment using its blockchain.
Some people also suggest that 6 represents their 6 stages of development before becoming a truly autonomous organization (DAO).
However, the official explanation from Emurgo, one of the organizations behind the development of Cardano, is that the logo represents Hypocycloids.
Hypocycloids, also known as Cardano circles, are geometric shapes that are created by tracing a fixed point on a rotating small circle inside a larger circle. They can come in many different shapes, sizes, and patterns.
The genesis of Cardano Logo
Mathematician Cardano was the first to describe hypocyloids, the pointed (dots of our logo) plane curves generated by trace of a fixed point on a small circle that rolls within a larger circle.

Emurgo

Emurgo has stated that the logo represents the complex and dynamic nature of the Cardano platform, which is built on cutting-edge technology and is constantly evolving to meet the needs of its users.
Conclusion
In conclusion, the Cardano logo is a unique and meaningful design that represents the complex and dynamic nature of the platform. The logo's meaning is not a satanic symbol or a carbon-based symbol, but it is a Hypocycloids or Cardano circle, which is made by tracing a fixed point on a rotating small circle inside a large circle.
PNG Logo
Below are some versions of the Cardano logo in PNG format.

Looking for Simple and Elegant Logo Design Service?
Mrvian is a professional designer who has this style type. Even though the outcome is a simple design but it comes from a thoughtful process in order to produce the most suitable brand for the target audience and brand value. Check out my portfolio to get a feel of my style and don't hesitate to contact me.